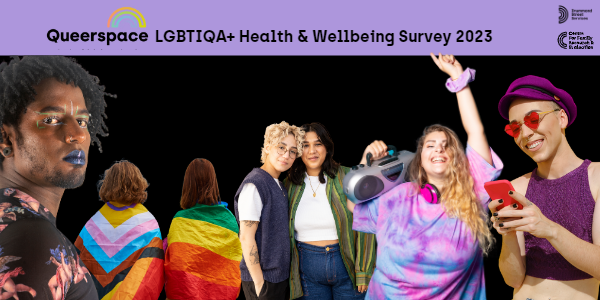 Speak up for LGBTIQA+ mental health: share your experiences!
Participate in this year's LGBTIQA+ Health and Wellbeing Survey
You are invited to take part in this year's survey about health and wellbeing within and across LGBTIQA+ communities in Victoria.
This survey seeks to better understand the needs of people from LGBTIQA+ communities, including where these needs are being met or where there are gaps and barriers to service access and support.
An important aim is to improve the safety and accessibility of mental health pathways and services for LGBTIQA+ people.
The survey will take about 20 minutes.
The survey is open for three weeks.
What does the survey ask?
The survey will ask about you, for example, your age, gender, sexuality, your communities and identities.
You will also be asked questions about potentially difficult experiences around mental health, discrimination, and relationships. You can skip these questions.
You will be offered contact details for support services throughout the survey. There is also a 'Quick Exit' button in the top right corner of every page.
You can return to the survey at any time, until the date above. We will not see your response until you press submit.
The survey results will help inform LGBTIQA+ services and support within Drummond Street and through the Victorian Government.
I would like to read: