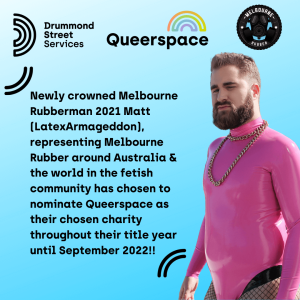 Newly crowned Melbourne Rubberman 2021 Matt (LatexArmageddon), representing Melbourne Rubber around Australia and the world in the fetish community has chosen to nominate Queerspace as their chosen charity throughout their title year until September 2022.
"I believe Queerspace plays a crucial part in providing services and counselling for improving the mental health and wellbeing of LGBTQIA+ Victorians," said Matt, current reigning titleholder. "On a personal note, I am currently studying Psychology at the University of Melbourne and wish to go into practice working with the LGBTQIA+ community and I believe Queerspace is an organisation that does important work, not only in providing support and opportunities to our community, but also inspiring emerging mental health practitioners."
Melbourne Rubber is the place to call home for those who embrace an inclusive approach to rubber. They believe that all people have the right to be sexual if they choose. They value diversity so are deliberately inclusive, welcoming all genders, sexualities, races, abilities, and identities wherever they are on their journey with rubber or kink. As they expand their reputation from behind closed doors outside into the public realm, their values of sex positivity, love for rubber and push for inclusivity will always remain at their core.
Queerspace is a service by and for LGBTIQA+ people. It provides counselling services, family education, group support programs, advocacy, and case management and are a part of Drummond Street Services, one of Australia's longest running charities, being established in 1887.
Queerspace welcome the support of Melbourne Rubberman 2021 and look forward to working with Matt in their exciting fundraising activities over the next year.
For comment, please call 9663 6733